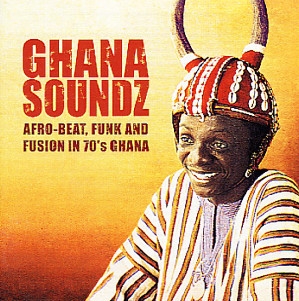 Ghana Soundz: Afrobeat Funk & Fusion in 1970's Ghana

Tracklist:
1. Because Of Money - 3rd Generation Band
2. Bukom Mashie - Sulley, Oscar & The Uhuru Dance Band
3. Mother Africa - Marijata
4. Heaven - Taylor, Ebo
5. Simigwado - Ambolley, Gyedu Blay & The Steneboofs
6. Eyi Su Ngaangaa - Sweet Talks
7. Ageisheka - Ogyatanaa Show Band
8. Psychedelic Woman - Honny & The Bees Band
9. Hwehwe Na Yi Wo Mpena - Frimpong, K. & His Cubano Fiestas
10. Kwaku Ananse - Apagya Show Band
11. Self Reliance - African Brothers International Band (1)
12. Make It Fast Make It Slow - Rob (2)
13. W'aha Do Ho No - Konadu, Alex
14. Nite Safarie - Black Star Sound
A true historical landmark, Ghana Soundz: Afrobeat Funk & Fusion in 70's was produced by an Englishman named Miles Cleret who spent two years in Ghana hunting for rare master tapes and information about a sparsely documented and under-appreciated genre. He not only has fabulous ears, but also wrote the exhaustively detailed, infectiously enthusiastic liner notes.
During the 1960s, Highlife was the reigning musical craze in Ghana, but Western-derived rock and R & B influences were seeping in, creating a daringly experimental jazz-funk scene. Big bands combined home-grown drumming and chanting with cheeky, slapping bass lines, motel-bar organs, and guitars that wah-wahed their way from Muscle Shoals to Haight-shbury. These elements were typically, but not universally, augmented by braying horn sections whose soloists seemed to be channeling Miles and Bird. The closest African equivalent was Fela Anikulapo Kuti's huge, James Brownsian travelling mayhem machine, but even that priapic Nigerian icon's antics seem tame next to some of these tracks. --Christina Roden, Amazon.com

Has recieved various 5 ***** reviews
In 1963, the flight from Jamaica to Toronto was 8 hours. Today it's 3 1/2. Countless people have made the dwindling journey over the years, but in the sixties and seventies there was a new breed of traveler: the finest ska, rocksteady, and reggae recording artists the West Indies have ever produced. We're talking Studio One, Treasure Isle, Trojan, and WIRL veterans Jackie Mittoo, Johnnie Osbourne, Wayne McGhie, Lloyd Delpratt, The Mighty Pope, Noel Ellis, Jo-Jo Bennett, and many more. Arriving in their new Canadian home, these talented singers, songwriters, musicians, and performers simply did what came naturally to them. One by one, they hit the studio and captured some of the hardest tunes this side of Kingston.
Tracklist:
01 Jo-Jo and the Fugitives - "Fugitive Song"
02 Eddie Spencer - "If This Is Love (I'd Rather Be Lonely)"
03 Jo-Jo and the Fugitives - "Chips - Chicken - Banana Split"
04 Jackie Mittoo - "Grand Funk"
05 Lloyd Delpratt - "Together"
06 Cougars - "I Wish It Would Rain"
07 Johnnie Osbourne - "African Wake"
08 Ram - "Love Is the Answer"
09 Bob & Wisdom - "I Believe in Music"
10 The Sheiks - "Eternal Love"
11 Wayne McGhie & the Sounds of Joy - "Fire (She Need Water)"
12 Cougars - "Right On"
13 Eddie Spencer - "You're So Good to Me, Baby"
14 The Hitchikers feat. the Mighty Pope - "Mr. Fortune"
15 Noel Ellis -"Memories"
16 Wayne McGhie - "Here We Go Again"
Soul of Brazil -Rare Funk, Soul & Bossa Grooves
http://rapidshare.com/files/19659999/Soul_of_brazil.rar
One of the best Reggae compilations out there. A true history.
Tracklist:
1.54-46 Was My Number - Toots & The Maytals
2.Harder They Come, The - Jimmy Cliff (single version)
3.I Can See Clearly Now - Johnny Nash
4.Marcus Garvey - Burning Spear
5.1865 (96 Degrees In The Shade) - Third World (single version)
6.Equal Rights - Peter Tosh
7.Police And Thieves - Junior Murvin
8.Sponji Reggae - Black Uhuru (single version)
9.Wa Do Dem - Eek-A-Mouse (single version)
10.Love Has Found It's Way - Dennis Brown
11.Night Nurse - Gregory Isaacs
12.Zungguzungguguzungguzeng - Yellowman (single version)
13.Greetings - Half Pint
14.Murder She Wrote - Chaka Demus & Pliers
15.Mr. Loverman - Shabba Ranks/Chevelle Franklin
16.Boombastic - Shaggy (Sting remix)
17.Untold Stories - Buju Banton
18.Who Am I - Beenie Man
19.And You Be Loved - Damian "Jr. Gong" Marley
20.Heads High - Mr. Vegas (Kill 'Em With It remix)